By default the signed document(s) and the signing log(s) are sent to you as attachments in the final email.
SignRequest has experienced some known issues which are unfortunately out of our control.
Signature is not visible on the document
If the signature is not visible in the document, please try opening it in a different pdf viewer or web browser and see if the signature is visible there.
SignRequest seals the document with a digital certificate. This helps to show the integrity of the signed document. In Adobe for example this is visible with the green checkmark.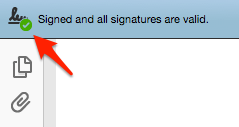 Unfortunately not all PDF readers support digital certificates. Known PDF readers that do not support this:
- Firefox web browser
- Foxit PDF reader (sometimes)
It is possible to remove the digital certificate for your (team) account(s). While the digital certificate makes it easily visible whether or not a document has been changed after signing you could (in case of a dispute) also use the hash codes in the email and signing log. Hash codes are unique codes for a document, even if 1 pixel is changed in the document this will result into a different code. The document that generates the hash code that is visible in the SignRequest email and signing log will be the original document.
If you would like SignRequest to disable the digital certificate please submit a ticket.
There is no attachment in this email
Please note that there are several types of notifications. The 'Signer Signed' notification only indicates that one of the signers has signed. This notification does not have attachments. In your 'My documents' section you can view who still needs to sign.
Only after all signers have signed you will receive the 'Document signed' email with the attachments.
If the attachments are not visible in the 'Document signed' email it is possible that the email has been forwarded from one account to another email client (e.g. Apple mail) and that the attachments have been filtered out. In this case please log into the original email client.