The purpose of this article is to teach new users how to create and send a SignRequest document.
First, on the home page, click 'Add document to sign'.

Upload the document you'd like to have signed. SignRequest supports .pdf, .doc(x), .txt, and more. However, complex .doc(x) files might change a little bit during conversion.
Next, select 'Who needs to sign (or fill-in text information)?'

Fill in the contacts that you would like to send the document to:

You can enter up to 20 contacts here.
Note: all of the contacts entered in this field will receive and sign the same copy of the document.
If you would like to send the same document to multiple signers to all receive and sign their own copy, please refer to our Bulk Send feature.
Next, you have the option of clicking the 'Advanced' button to set the Authorizations, the Signing Order, and text message verifications. However, you can also optionally do this on the 'Prepare Document' page.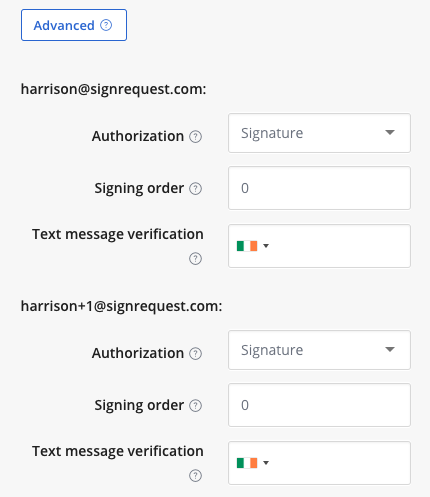 You also have the option of adding a custom message, which will appear to the recipients as the body of the SignRequest email.

Next, you have the choice of clicking "Prepare Document" (recommended) or "Sign and/(or) Send".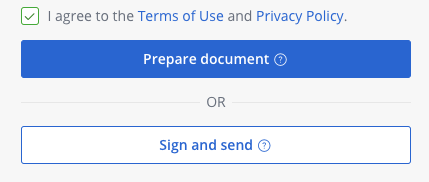 By clicking "Prepare Document", you will have the chance to create placeholders and signature fields to designate where you would like your signers to input information and/or signatures.

You also have another opportunity to set the order of signing, the action for each signer, as well as many other options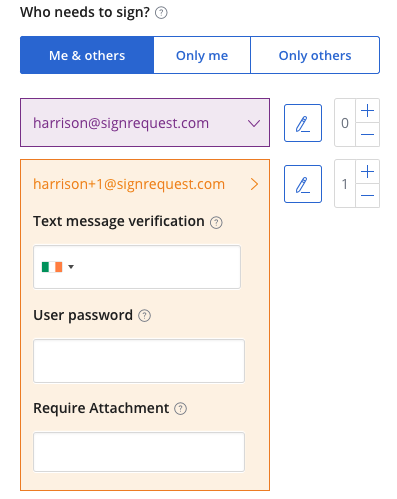 Furthermore, by scrolling down the right-hand column of the page, you can customize the name of the document, as well as the email subject line. You will also have another chance to customize the message.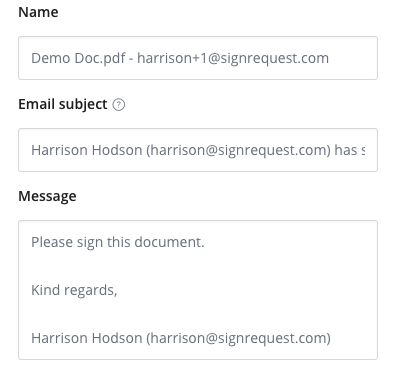 Moving down even further, you can 'turn on' automatic reminders, set an expiration date, save this prepared document as a template (for paid plans only). You can also add an attachment for your signers' to see. 'Change original file' allows you to replace the background document, but will preserve the placeholders/ signature fields.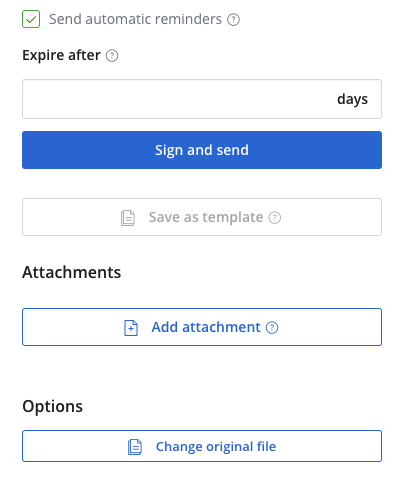 Before sending, make sure to double-check that all of the placeholder fields are assigned to the correct contacts, the order of signing is correct, and all other settings are correct.
Finally, click 'Sign and/(or) Send' (depending on how you have assigned to 'Who needs to sign?'