After all users have signed and finalized a SignRequest, by default the signed document(s) and the signing log(s) are sent to all parties of the SignRequest as attachments in the final 'Document signed' email. You can view and download the attachments from the 'document signed' email.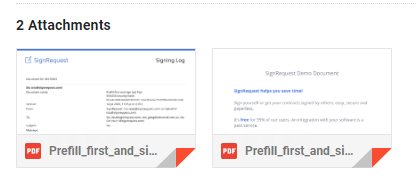 If you are subscribed to SignRequest, the newly signed document(s) and signing log(s) will also be available for download in your 'My Documents' section of your SignRequest account.
If you experience any issues viewing a particular downloaded signed document, you can reach out to SignRequest support and submit a ticket with the issue you are experiencing.
To help resolve the possible issue, it is recommended to provide the 'Document ID' of the signed document, name the PDF viewer used to view the signed document, provide a copy of the 'signed document', a copy of the original document uploaded to SignRequest and a copy of the 'SigningLog'.
Additionally, it also helps to know how you have generated your original document. (eg. MS Word, Google Docs, via API etc)