By default, every user has one "Personal" profile.
If you are subscribed to the Professional or Business plan, you can create "Teams". A Team Profile has all of the features of a Personal profile but also offers the option to work with other users, and add your company name, logo and color.
If you have been invited to a team, you will need to use the Team profile, and not your Personal profile. This is because team members are considered to have a "Free" subscription (with limited features) when not using the Team profile. Only when using the Team profile will Team members have access to the paid features of the team that was created by the subscription owner.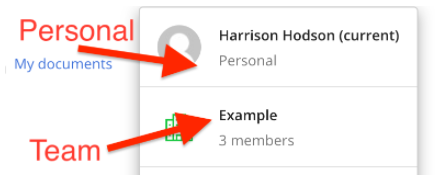 Users can toggle back and forth between their Personal and Team profiles by clicking on the profile you would like to login to in the drop-down list in the upper-right hand corner of any page on the website.
Your Personal profile is completely private for yourself. By switching to a Team profile, you can:
share (signed) documents and templates with team members
add your own branding
add a landing page for your signers
define your font type for the signer's input
add a default message
add a default subject line
define which type of signatures are allowed to be used (typed / drawn / uploaded images)
Please note that it is possible to create a branded Team profile with just one user, to take advantage of the customization and workflow capabilities.