It is required that all users of SignRequest, who are signing a document, must confirm that they will adhere to the Privacy Notice and Terms of Service.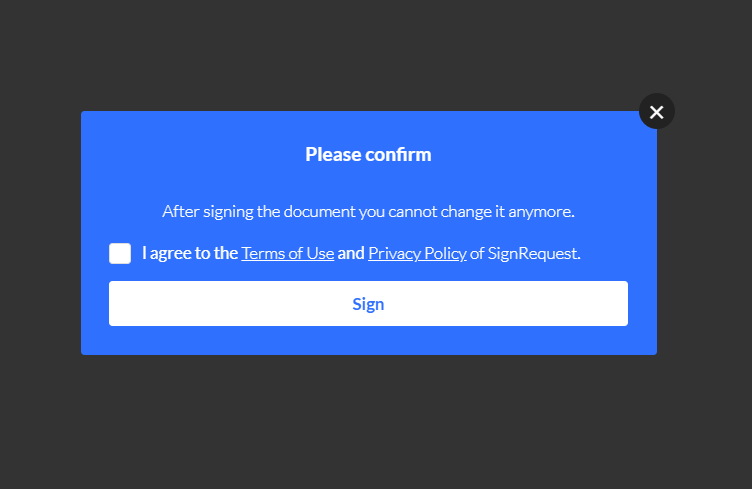 The reason for the Terms is simply to outline all aspects of the legal relationship between SignRequest and the users (hereinafter a User) of the services provided by SignRequest (the Services).
It is not possible to bypass this step as it is imperative that the relationship between SignRequest and its Users is clear and mutually respected.
Regarding the Privacy Statement, SignRequest B.V. ("SignRequest") is committed to protecting your privacy and personal data. We process personal data in compliance with the privacy and data protection laws of the General Data Protection Regulation (GDPR) of the European Union, where SignRequest is established. In the Privacy Statement, we describe how we deal with personal data in the context of providing SignRequest's services to you.
When using our service, we may ask you for your name, email address, telephone numbers, gender and postal address, and as part of a signing process, we process the signature that you place. Your name and email address may also have been provided to us by someone who sent you a signrequest . If you log into your SignRequest account using Facebook, Google or other services, these services may share additional information about you in accordance with their privacy policy.
When you use the SignRequest services and website, your computer will automatically provide us with certain information about your computer hardware and software, such as IP addresses, operating system, browser type, location data provided by your browser, domain names, access times, timestamps and referring websites.
The intent of SignRequest for collecting and processing information is first and foremost for providing our services. Secondly, we may use such information for the operation of our website and services, to maintain the quality thereof, and to obtain statistics regarding the use of the website and services. We may also use it to show to free users advertisements – that help keep our services free – and to send information about the products and services of our partners. Paying or registered SignRequest users will receive information (for example a newsletter) about our services. However, non-registered SignRequest users that originate from paying users will not receive information about our services or about the products and services of our partners.